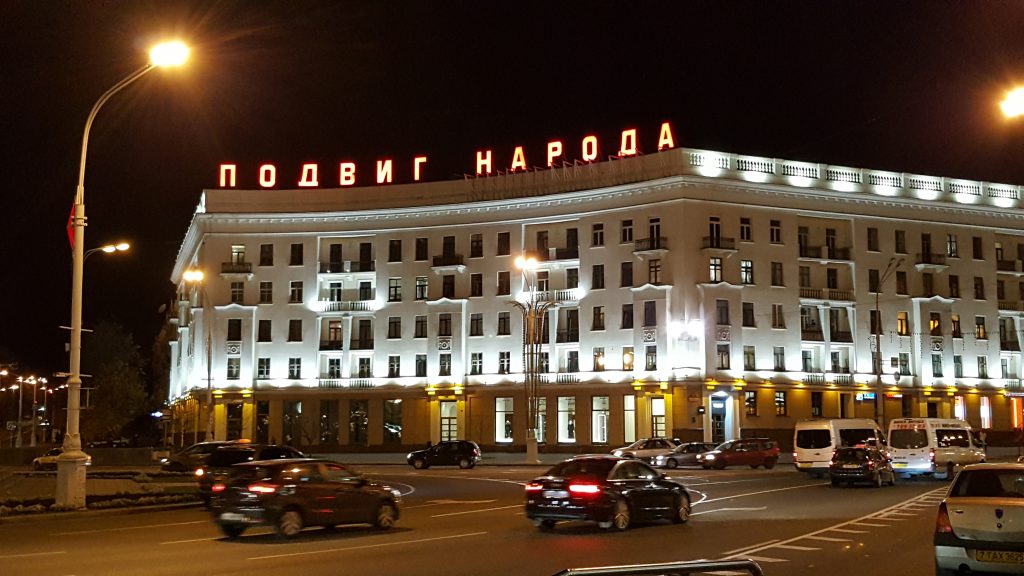 Minsk is a very clean and well-planned out city, an example of what countries under the control of the Soviet Union may have looked like in modern day times had world events turned out differently. Unlike other former Soviet states, though, Belarus has not been so quick to throw the past into the dumpster of history, something I view as positive. An example is the very imposing statue of Lenin that dominates Independence Square, an attraction I'd recommend visiting.
My visit to Minsk was timely as there is growing movement in America to revisit the past under the guise of current moral beliefs and popular opinion. I've been hesitant about the fervor in America to slowly tear away parts of history by removing statues or diminishing the achievement of individuals solely because other groups were not represented. This has seeped into popular culture as well with the decision to pull the Michael Jackson episode from the Simpsons.
Getting back to Belarus, those interested in the history of the Soviet Union should definitely pay a visit in order to witness a country with one foot in the present and the other in the past. It's also a relatively inexpensive destination for Western Europeans who wish to try something off the beaten path, especially considering visit limitations have been bumped to 30 days for non-residents.
Travelling to Minsk – Do I Need a Visa to Enter Belarus?
You no longer need a visa to visit Belarus if you hold a passport from the 74 countries which the Ministry of Foreign Affairs have approved for a 30 day visa free visit. As far as planning your visit goes, note that there is a single airport in Minsk, which is the Minsk National Airport (MSQ).
Before exiting the aiport you'll need to go through passport control, so make sure to have your arrival card filled out beforehand, otherwise you'll be sent to the back of the line. This tip comes from personal experience, so I hope it will save you some time 🙂 It's also worth noting that before you are allowed to enter Minsk, you must purchase medical insurance, one of the scariest words for an American to hear, but in this part of the world it only costs $5!
As far as entering the country goes, I've found the passport control in Belarus to be one of the most thorough in the countries I've visited so far. On both arrival and departure, the agent flipped through my passport several times, and also inspected it very carefully with a special magnifying glass. The level of scrutiny made me feel that somehow I had committed a crime! Of all the countries I visited, this was by far the most thorough review of my passport.
After exiting the airport, I'd advise you to pick up a sim card if you don't have a roaming plan that covers Belarus. A sim card is very inexpensive and it will only takes about 10 minutes to get one at the airport. The Minsk National Airport is relatively small so if you walk along the main exit corridor you will most likely see a kiosk for life : ) which is the carrier I used during my several stays.
A warning I'll make that applies to nearly all countries in Eastern Europe is to avoid local taxi drivers like the plague!! They are CROOKS, plain and simple. I will gladly welcome the day that taxi apps force local drivers to charge the fair, market price. The reason I make this warning is that these local drivers will assume you are a rich foreigner who they can fleece out of money. These taxi drivers take advantage of the fact that you don't know the local prices and have no problem driving without the meter running so when you arrive at your destination, they'll try to charge 10 or 20 times the market price. My advice is to pick up a sim card at the airport as I've previously suggested and hail a taxi using the local operator, Yandex where you will pay a fair price. In the event that you have no choice but to hire a local driver, ask them the price up front and write it down on a piece of paper, making sure you confirm the currency they quote you (US Dollars vs Belorussian rubles) so there are no surprises.
Cuisine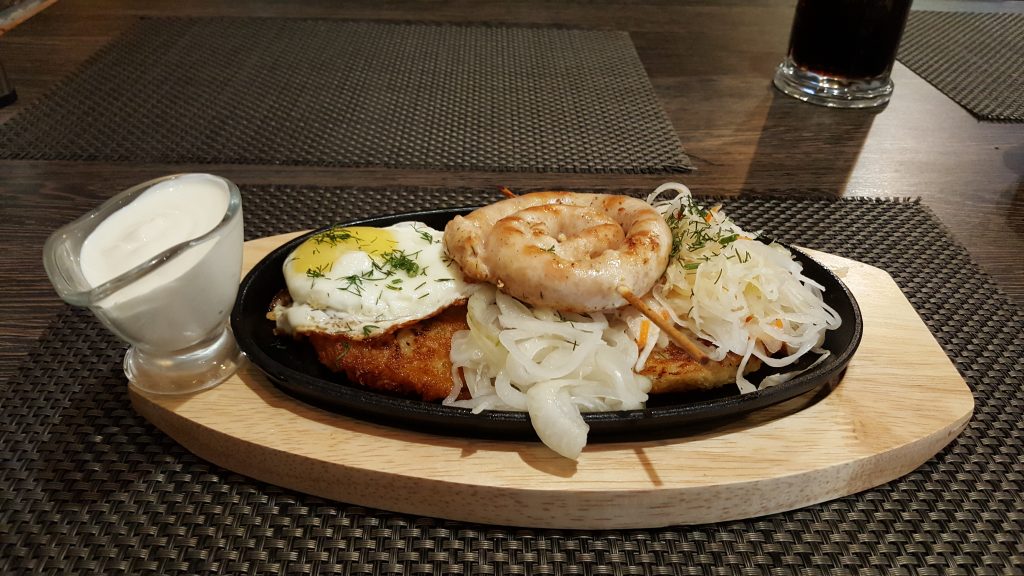 It was a little difficult to find restaurants explicitly serving Belarussian cuisine during my time in Minsk, most likely because I didn't know any locals when I visited. There are some great local restaurants though, which would be 5 star dining establishments in America based on the service and appearance but at the price of a dinner at Chili's 🙂
If you've been exposed to the type of food found in Russia, you'll see that for the most part, the majority of the cuisine found in Minsk is standard fare for this part of the world: meat, vegetables, soups, and starches. Other blogs can most likely detail the nuances of Russian food better than myself so I'll leave it to them.
Recommended Restaurants in Minsk, Belarus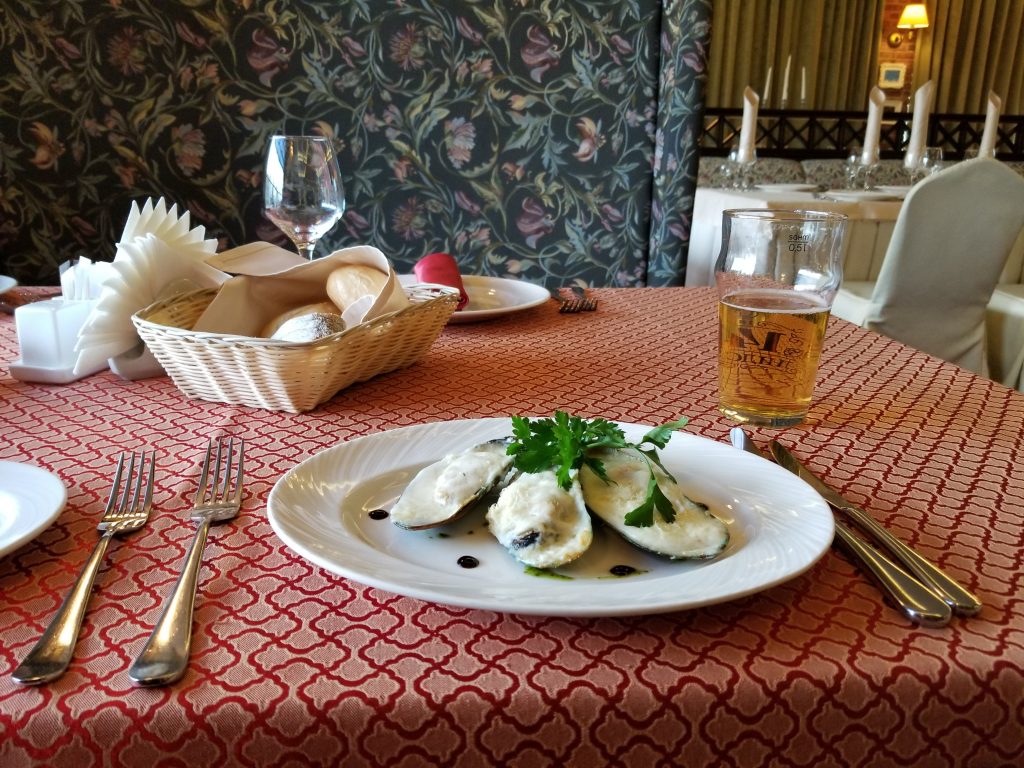 Restaurant Drozdy Club – I went here for an early dinner during one visit to Minsk. Drozdy Club serves standard Russian fare so you'll have your choice of soups, meat, and vegetables. The layout of the restaurant itself is rather ornate as evidenced in the photos you'll see on the website. Wait staff were quite good and attentive for what you'd expect in this part of the world. As a final thought, if you visit during the day, you can talk a nice walk afterwards along the Drozdy Resevrior.
Chaihana Lounge Cafe – This restaurant primarily serves food from Georgia and Uzbekistan. Having been exposed to a fair amount of Georgian food, which I highly recommend to those who haven't tried it, I opted for the Uzbeki options. As scary as the word might sound to a foreigner, the main Uzbeki cuisine consists of grilled meat and vegetables usually served with rice, not as exotic as you may expect. If you wish to try something off the beaten path then I'll think you'll enjoy the the Chaihana Lounge Cafe which had a very brightly colored interior and was quite a relaxing venue to enjoy a meal.
Cafe Mensk – Located in Independence Square, very close to the Lenin Statue, this is an excellent restaurant to visit if you'd like to experience what eating establishments were like during the times of the Soviet Union. Despite the name, you'll find a variety of very basic Russian style food served in a single line, buffet format. After selecting your desired items, you immediately pay and then find a place to sit, kind of a like a high school cafeteria. As a foreigner to Eastern Europe, I appreciated both the environment and choice of cuisine, which were very new experiences for me.
What is There to do in Minsk?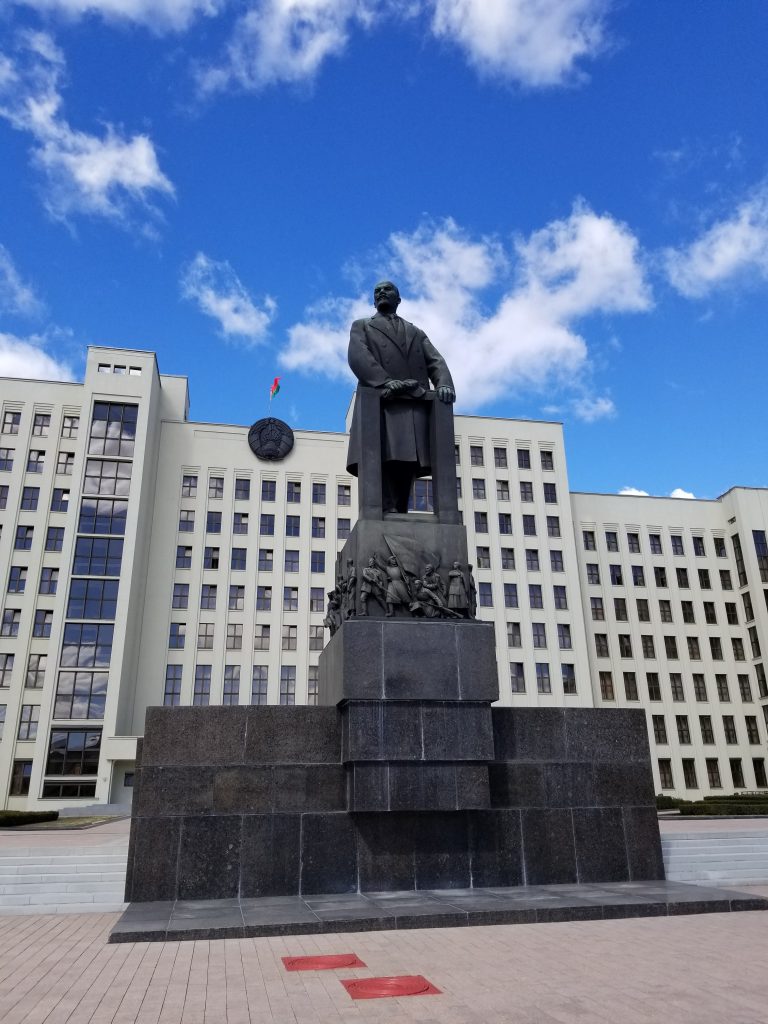 I've mentioned already but it's worth repeating that Minsk is an excellent example of what a fully planned, state run country looks like. I'd suggest taking the metro or having a cab drive you around to fully understand the layout of the city. The best way I can describe Minsk is like a disc, with the city center being in the middle. As you head away from the center, you'll slowly encounter less of the city attractions and more of the suburbs.
Minsk has the luxury of being a less concentrated city in terms of population density, making it easier to keep up this appearance. Unlike Chisnau or Kiev, most of the buildings here, even the older ones, are kept up quite nicely. In addition, I found both the streets and underground passages to be impeccably clean. Both the bus and metro were well organized and running timely. Although sad to admit, the subway terminal in Minsk is far cleaner and presentable than what you'd find in New York City.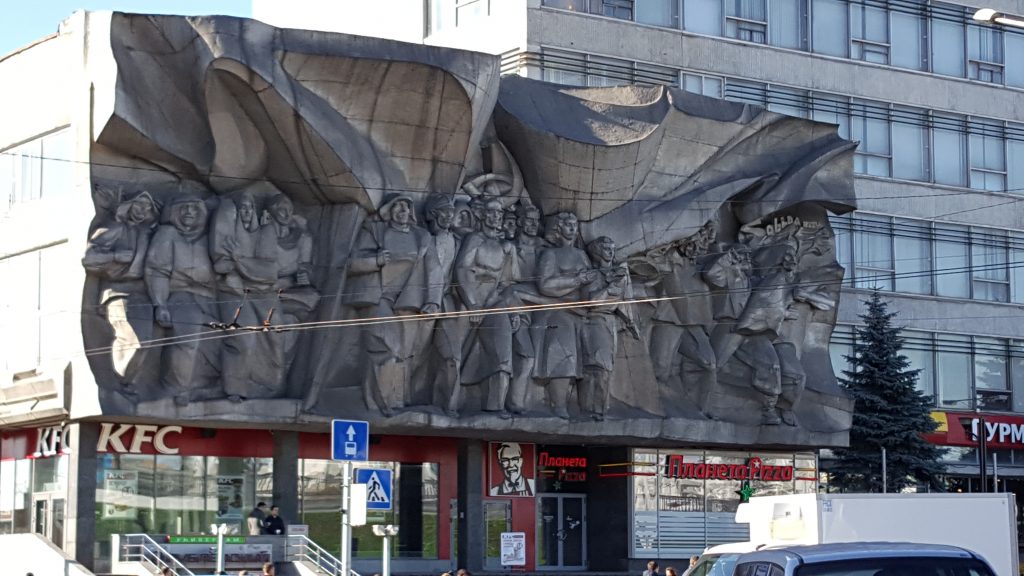 Most tourists will no doubt visit the city center. Similar to most Eastern and Central European cities, the it will consist of a hodge podge of pre-Cold War architecture, modern shops, and communist style government buildings. The culmination of this historical pot luck is the KFC restaurant. Directly above the KFC is a massive stone mural from the Soviet Era, depicting worker solidarity in the form of indistinct looking masses. The juxtaposition of Soviet propaganda with Western capitalism in the form of KFC best summarizes my interpretation of how Belarus functions in the 21st century.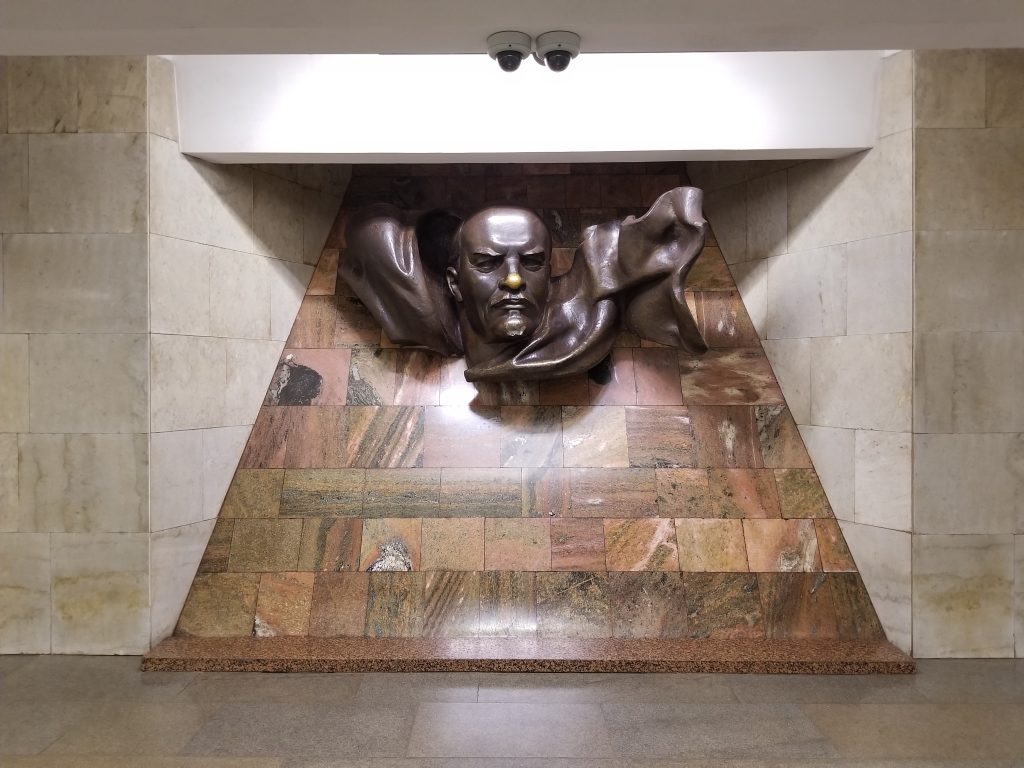 In addition to the sights of the center, visitors will have the opportunity of visiting several beautiful churches which are in walking distance of any part of the city. There is also Independence Square which I've alluded to previously, making a visit there a must. History buffs must visit the Great Patriotic War Musuem, located not far from Victory Park which I found very beautiful.
Some Recommended Attractions
Nyamiha Shopping Center – Located in the city center, here you'll find an arcade of local shops and stores. What makes visiting this shopping center interesting is that it hasn't appeared to change much since the time of the Soviet Union.
Ploshcha Lyenina Metro Station – This is the main metro station found in the city center and located very close to Independence Square. Those who want to witness remnants of the Soviet Union will find the Lenin sculpture featured above as well as a a very prominent sickle and hammer display located in the waiting area between the train tracks.
Saint Simon and Helena Church – If you manage to make it to the city center then it's just about impossible not to come across this impressive church. There are other sights to see here as well such as the Holy Trinity Church so I'd suggest walking around this area to fully appreciate all the city center has to offer.
Zamok Shopping Mall – There is nothing out of the ordinary for this shopping mall as it will have all the shops and restaurants you'd find throughout Europe. The bottom floor has a local grocery store so if you are in the area you can go here to stock up on some essentials.
Belarusian State Museum of the History of the Great Patriotic War – The verbose name is one of the many examples of Soviet style influence on Belarus. Trust me, the museum lives up to the name as you can witness first hand the outcome of World War II from the eyes of Belorussian historians.
Victory Park – Located close to the Patriotic War Museum, I'd highly recommend taking a walk in the fall or summer as the park is very serene and peaceful.
Casinos and Gambling
Because gambling has been outlawed in neighboring Russia and also Ukraine, Minsk boasts many casinos which are scattered throughout the city, something you'll be constantly reminded of on your drive in from the airport. Those in my audience who are from America or have visited Las Vegas, I'll save you the disappointment as you won't find anything like it in Minsk. The casinos I visited had very ornate interiors which ended up being the highlight of the establishment; upon entering most casinos, both the quality and atmosphere diminish considerably.
A casino in Minsk will offer none of the perks or excitement you may find in Vegas. Instead, you'll experience all the trappings that you'd expect of a Russian style casino. Because smoking is not strictly prohibited in many of the casinos, you'll have to deal with a haze of cheap cigarettes with the subtle smell of vodka and cognac on the breath of most of the visitors.
You may find live music in some establishments but prepare for disappointment as it will mostly consist of American pop songs sung in thick Russian accents. Don't expect free drinks or VIP treatment you'd expect in Vegas, rather the typical restaurant service you'd find throughout the city.
As for the games themselves, you'll find the standard roulette, blackjack and craps along with slot machines. I'm a poker player myself but had difficulty finding casinos that hosted live games. I was ultimately able to play at a couple places but the effort wasn't worth it as there are more interesting attractions in Minsk. If gambling is your thing, you'll no doubt find it Minsk, much more I can't really say on the topic.
Random Thoughts & Information Pertaining to Minsk, Belarus
Minsk is a very safe city if you keep to yourself. As a general travel tip, you can pick a fight in Belarus just as easily as you could in your local pub or bar. I'll emphasize, though that that this is not a country where you should even consider making trouble. Minsk is incredibly accommodating to visitors who obey the rules, however, penalties can be quite harsh for those who try to skirt or outright disobey them. As a final thought on this point, you should always keep your medical insurance packet and proof of stay with you. From my perspective it would be a rare occurrence, but if you were ever approached by authorities, even for innocuous reasons, they will ask to see your documentation. Should you not be able to produce anything, you may have to pay a small penalty.
Although the native language of Belarus is not Russian, rather Belorussian, all advertisements, signs, and notices were in Russian throughout the city. In fact, the only time I even saw something in the Belorussian language was on the language menu of an ATM. If you know Russian you'll be fine here as it is the spoken language for all commercial transactions and conversation. If you happen to know Russian, then you most likely knew this about Minsk already 🙂
For those who don't speak Russian, just bear in mind that your experience will be slightly limited as not everyone in Belarus speaks English fluently. You can probably get by with Google Translate but it won't be the best experience. For example, most restaurants won't have a menu in English so be prepared to have a crash course in Russian. Alternatively, you can employ my tactic of simply pointing to a random set of words on the menu and see what happens!
As far as the language factor goes, this is not to say you cannot enjoy yourself in Minsk, just bear in mind that language will be a limiting factor on your stay. At a minimum I'd suggest learning a few basic Russian phrases, which will make the experience more enjoyable. Another idea is to befriend someone from Belarus. I've always had a far more unique and fulfilling travel experience when I have a local to guide me.
The currency used in Belarus, the Belorussian ruble (BNY), is roughly double the value of a US dollar at current exchange rates. I strongly recommend avoiding the airport or hotel money exchanges, where rates are jacked up to take advantage of visitors not familiar with the country. Instead, go to a local ATM and withdraw funds there. Most likely your bank will charge a small fee but it should pale in comparison to the inflated exchange rate you'll pay at an airport. Note that when withdrawing money from ATM, it's wise to always request the funds in the local currency so you are not taken advantage of by the bank, which often charges an inflated exchange rate as well. Finally, I'd recommend exchanging out most of your money when you are getting ready to leave Belarus or when your visit is coming near to a close. Although neighboring countries will most likely exchange your rubles, most exchanges and banks in Western Europe won't accept your them, so it's better to part with any remaining money prior to leaving Minsk.
One advantage in travelling to Minsk is that prices for food, lodging, and basic amenities are roughly 40% less when compared to Western Europe. A basic dinner with an alcoholic beverage and dessert won't set you back more than 25 Euro at most. A stay at some of the nicest airports won't be more than $75 to $100 a night.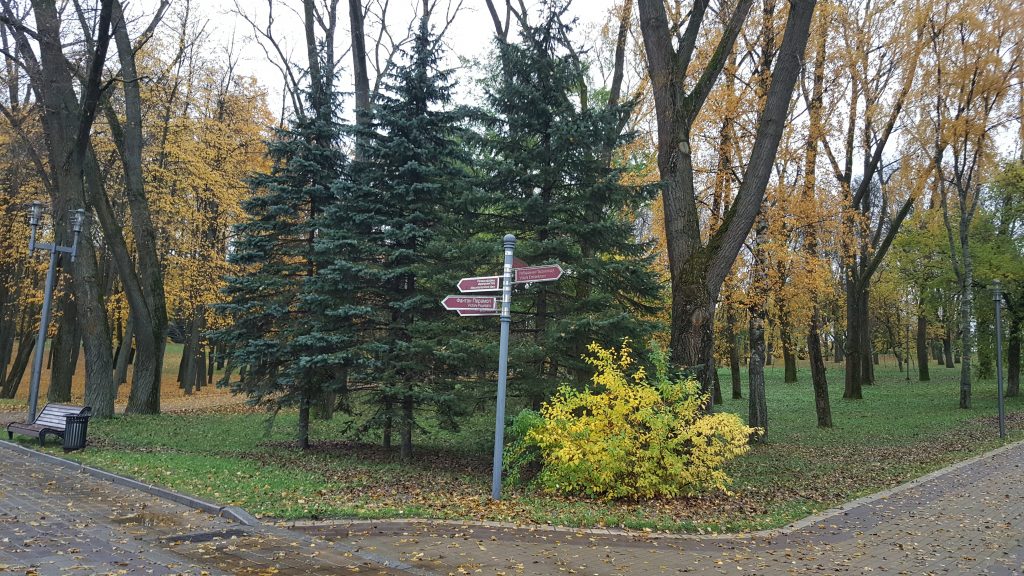 Final Thoughts
Due to its cleanliness, affordability, and overall comfort, Minsk is one of my favorite cities in Eastern Europe to visit when I wish to relax. Because Minsk is very well planned out, yet not as population dense as neighboring cities like Kiev or Chisinau, I truly appreciated the feeling of order and overall layout of the city, which has indeed charmed me over the years. As I've previously alluded to, if you wish to explore a city off the beaten path that won't burn a hole in your pocket, then you should definitely check out Minsk!