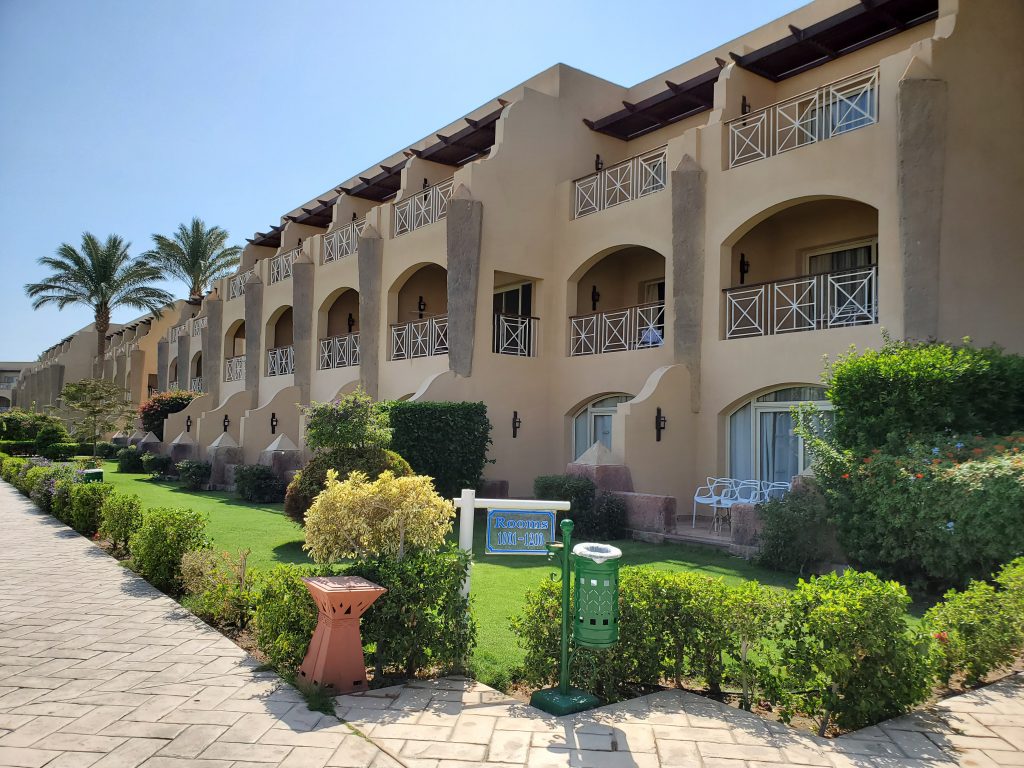 Prima Life is an all inclusive holiday resort located in the Makadi Bay district of Hurghada, Egypt. Those researching holiday destinations in Egypt will have plenty of resorts to choose from, Prima Life being one of the many options available just in the Makadi Bay district.
Trying to research a resort online can be an exhausting process. This is especially the case if it's your first time visiting Egypt since you won't know what to expect. Having enjoyed a 14 day stay at Prima Life, I'm more than happy to provide my honest feedback on the experience I had there. For the record, I was not compensated for writing this article nor am I expecting anything in return, I simply had a fun time and I'd like to share my positive experience with others!
An Overview of the Resort Layout
Prima Life is located on the Red Sea, allowing guests direct access to the beach. I was fortunate enough to have a room quite close to the water, meaning I could be on the beach in less than a 5 minute walk!
All pictures featured in this article I took myself, which attest to the beauty of the resort. Throughout my stay I observed that the groundskeeping crew was working hard to keep the resort in pristine condition so I'm confident you can expect what you see in these photos when you decide to visit.
As far as your experience at the Prima Life resort, let's start with the beach itself. When you first get to the water, you'll have plenty of sun beds to choose from, all of which have umbrellas above them. Despite the heat, you won't have to worry about being thirsty as there are 2 bars located directly on the beach, offering both alcoholic and non-alcoholic beverages. On a side note related to the beach area, Prima Life doesn't offer unlimited towels, rather you'll receive a card for a single personal towel for you to use throughout your stay. Because you are limited to a single towel, it's a good idea to bring a couple with you, especially if you are staying for a couple weeks as I did.
One advantage of staying at Prima Life is that you can have lunch at one of the bars adjacent to the beach. Because the restaurant area sits along the water, it's perfectly fine to eat in your swimsuit or trunks; no need to change clothes. The restaurant itself offers fruit, a small salad area, a variety of buffet style food, pizza, and kebabs. I ate here quite often and never grew tired of the selection.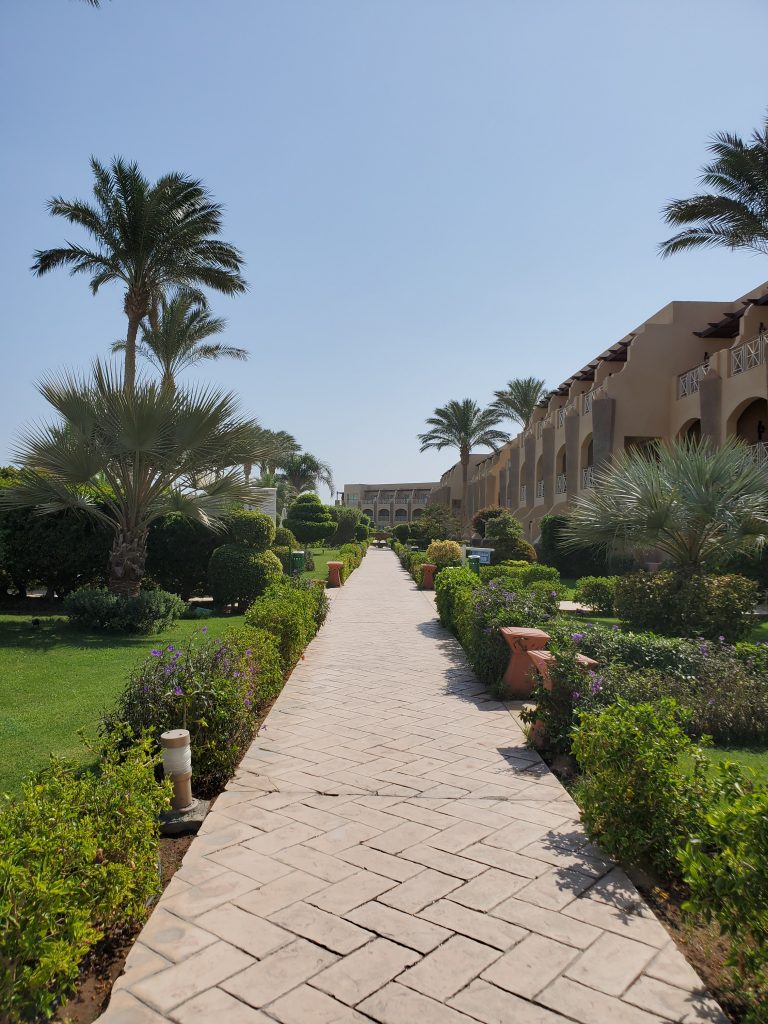 After you've explored the beach, you may want to see what else the resort has to offer. When you head away from the beach, there are 2 main walkways that lead to the resort swimming pool. On either side of the walkway you'll see all the rooms where guests stay, offering convenient access to all parts of the resort.
As you head to the pool, on the right hand side you'll see the Animation area (more on that in a bit) along with a place to play table tennis. There is another lunch area adjacent to the pool itself. The menu changes daily, usually you can find hamburgers, kebabs, and sandwiches along with some sides like french fries and rice. As you can see, what made my stay at Prima Life so enjoyable is the fact that it's nearly impossible not to find a place to eat or drink.
After you've passed the swimming pool, you'll encounter the main dining area which also features some themed restaurants. Depending on the package, you may get 1 free meal at one of these restaurants, otherwise you'll incur an additional fee should you decide to dine at one of them. I found the food in the main buffet which is part of the overall package to be excellent. If you'd like a change though, you'll have several restaurants in the resort to choose from.
The buffet area is connected to the main lobby where guests have access to a 24/7 bar, serving alcoholic and non-alcoholic beverages. There are some souvenir shops in the main lobby, an ATM, as well as a billiards room and dart area. Finally, there is a special bar for those who wish to smoke as the lobby and restaurants are all smoke free.
Room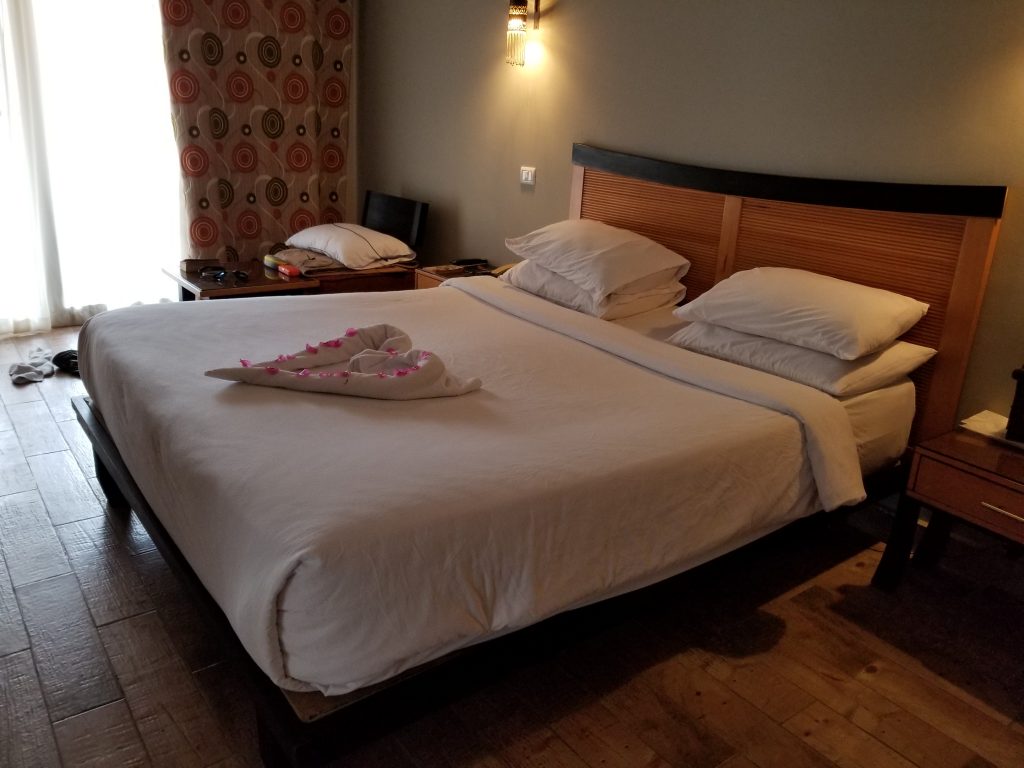 My partner and I took a deluxe room which consisted of a large queen size bed, small refrigerator, desk, a couple chairs, outdoor patio and bathroom. The outdoor patio was great for relaxing in the evening after a busy day and had drying racks available for swimsuits and towels. Given the beauty of Egypt and so much to do on the resort grounds, we didn't spend much time in the room. Nevertheless, I can only offer positive feedback about the accommodations.
The room itself was kept clean and the housekeeping staff were both consistent and thorough in their duties. All chargers and outlets, which are of the European variety, worked properly. This is another benefit of travelling to Egypt as you won't need to worry about carrying a power converter, something you normally must bear in mind when visiting other holiday destinations.
Because it can get very hot in Egypt, you'll want to feel confident in knowing that you'll have a cool place to sleep at night. Thankfully, the air conditioner was more than adequate in keeping the room cool throughout my stay. Also, something I wasn't aware of before visiting is that the local water isn't suitable for drinking. This wasn't an issue though because all guests received 2 complimentary water bottles in their room each day. In addition, there were numerous water coolers just outside the room itself, making it impossible to ever really be dehydrated at Prima Life.
What is the Food Like at Prima Life?
No matter which resort I researched, there were always complaints about the food. I'm guessing this is human nature, although I think when it comes to food, those of us fortunate to live in North America or Europe are simply too picky, and judging by many of the guests I saw at the resort, would be better off skipping a couple of meals 🙂 With this in mind, I felt the food at Prima Life was excellent, not just in variety but quality as well.
There is a main buffet area adjacent to the hotel lobby where I had the majority of my meals. So that guests don't get bored, Prime Life offers a cuisine theme that changes daily: Italian, Egyptian, Sea Food as a few examples. As an added touch, the wait staff dressed up to match the theme, my favorite being Mexican night since I never thought I'd see so many sombreros in Egypt of all places!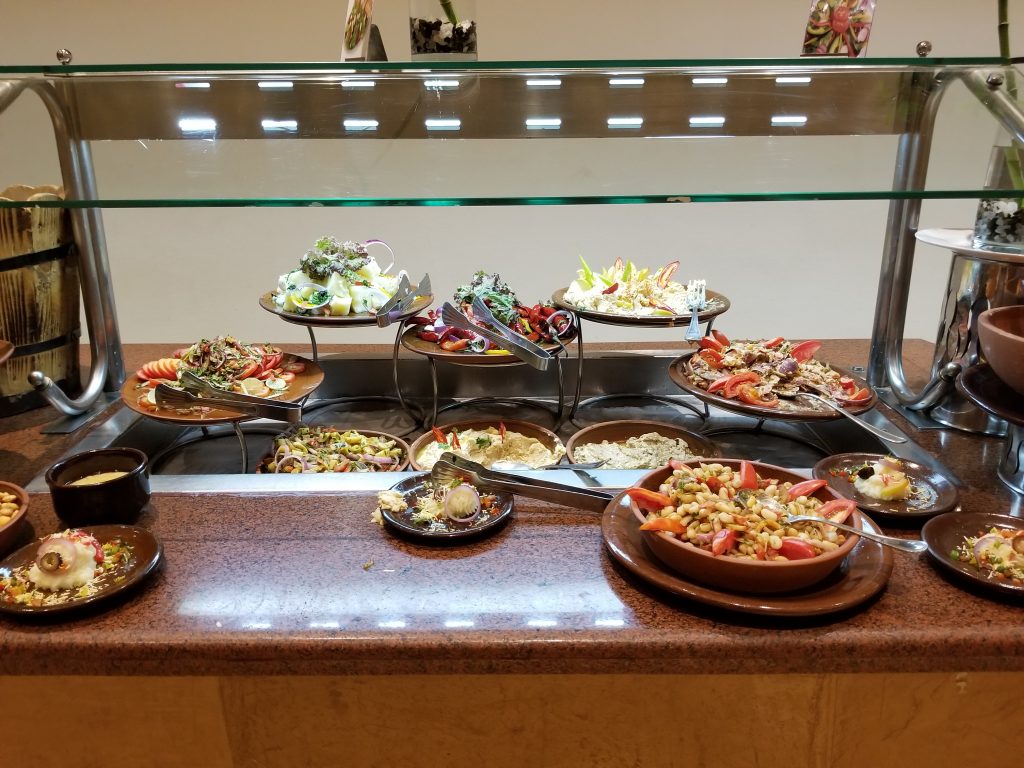 The main buffet offers a nearly unlimited assortment of options for all tastes. It starts off with an extensive salad bar that alone would be a satisfying meal. On a side note, green peppers in Europe tend to be mild but not in Egypt, so be careful, they are extremely potent! After the salad bar, there is a station for freshly cooked food which varied from day to day: pasta, meat, and in the morning freshly made omelettes, which I took nearly every day.
After passing the live cooking area, there is another food station mostly serving local food such as rice, beans, and other vegetable dishes. Finally, there is another large area that always offers 8 unique dishes served in buffet style and engulfed by a much larger dessert and fruit bar. In this section of the dining area you can get unlimited soda, water, juice, and even beer. As mentioned previously, it is impossible either go hungry or be bored by selection of food choices. I found that the quality was excellent for buffet style food, and never encountered any sickness or illness during my 2 week stay.
During your meal you'll find that the wait staff are incredibly friendly and attentive to your needs. My advice is to make some small talk with them on the first couple of days and they will seek you out throughout your visit. Egyptians are very friendly by nature, enjoy making jokes and will go out of their way to make you feel welcome. Don't worry though, they aren't after tips, rather just doing their job. I even tried to tip one very nice man who went out of his way to find some local coins for me but he refused, telling me exactly what I mentioned, that he was just doing his job. Such honesty truly made an impression on me, which is one of the reasons I wanted to share my positive experience.
What To Do at Prima Life?
The purpose of my holiday at Prima Life was primarily relaxation. With the exception of a few excursions, I spent almost all of my time at the resort and must confess that I never grew bored. It's important to highlight that this is an excellent place for a very relaxing, low key holiday. Although there is plenty to offer at Prime Life, if you are looking for an array of dance clubs and partying, then I'd recommend Ibiza or other beach resorts in Europe as Prima Life is primarily for families and couples.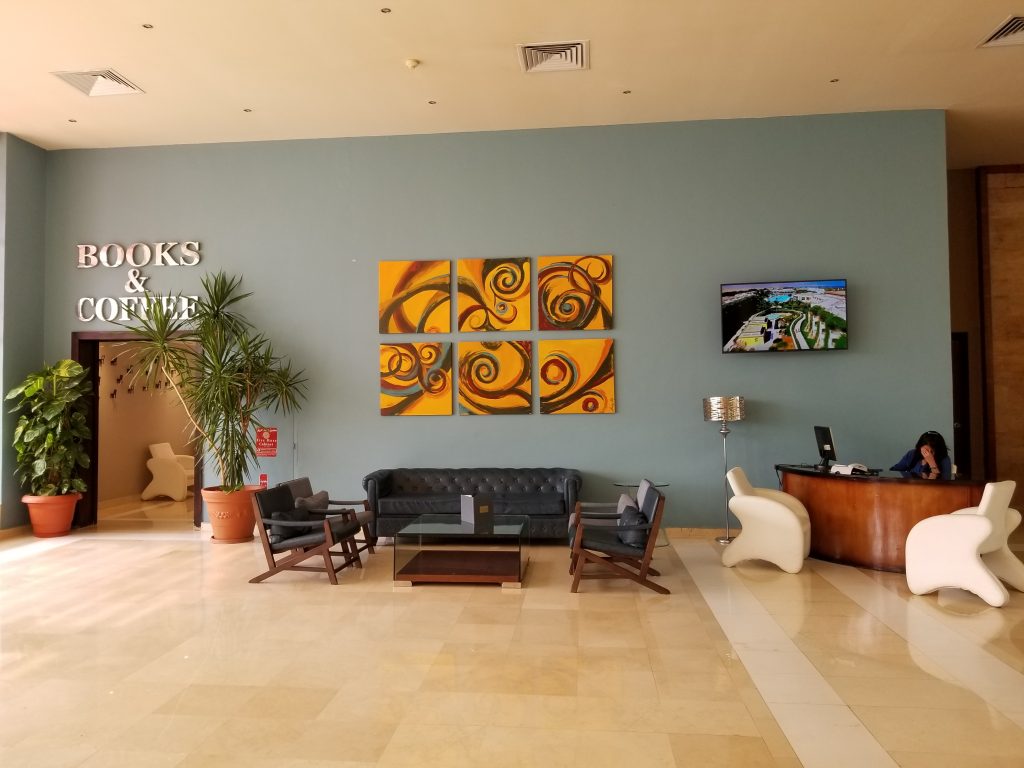 Exploring the Coral Reef in the Red Sea could satisfy my curiosity for months as I've never had the opportunity to discover such a variety of exotic fish and sea creatures that are happy to swim and explore the reef along with you. If you've never visited the Red Sea's Coral Reef, this is a once in a life time experience as it is one of the few places remaining the world with such beauty and variety of fish. My advice is to buy a snorkeling kit before your stay in order to maximize the experience. Also, you may not be aware of this but the Red Sea is extremely salty. Because of sheer amount of salt in the water, you will float nearly effortlessly, offering the ability to explore the Coral Reef for hours with next to little physical exertion.
In addition to the sea itself, Prima Life offers visitors access to a large swimming pool that has an oasis bar in the middle of it. As part of the resort package, residents enjoy unlimited alcoholic and non-alcoholic drinks throughout the resort, the pool bar included. If you prefer to relax near the pool there are plenty of areas for sunbathing, including some large beds in case you want to take a nap, something I'm quite fond of doing.
If you'd like to stay active during your stay there is a small gym at Prima Life, a health and wellness spa (not included in the package), table tennis, volleyball, and free exercise classes provided by the Animation Team. Along the beach front you can also go on a boat ride or parasailing, just keep in mind that these activities incur an extra charge and aren't part of the resort package.
Finally, Prima Life has a small game room that has a couple of billiards tables and a dart board. It's located very close to the bar so you can easily grab some drinks if you need a refreshment.
Animations
The term "Animations" was initially strange to me as we normally would refer to this concept as live entertainment. During my stay, however, I came to learn that Animations was more than just the live shows featured every evening. The best way I can describe it, is that the Animation Team was there to "animate" or excite you throughout your stay.
Thanks in part to the hard work of the Animation Team, I never found myself bored at Prima Life. Starting off with the live entertainment, each evening after dinner time there is both a children's show followed by a live event for adults. What was most enjoyable about is that the theme changed each evening, ranging from local performers (see the video above for a sample) to special live shows performed by the Animation Team.
Here I must take a moment to express my gratitude for the hard work and dedication of the Animation Team. Over my two week stay we grew to develop a friendly relationship with them, as we were greeted by the individual members throughout the day and were lucky enough to participate in some of their live shows in the evening.
The Animation Team worked tirelessly to make guests feel both welcome and entertained at all times. As mentioned, their work wasn't limited only to live shows at night but helping to arrange games throughout the day, invite guests to exercise or yoga classes and basically ensure the guests felt welcome at all times.
The Animation Team put a significant amount of time and effort into their performances, which I noticed were sometimes under appreciated by some of the guests. One of the saddest parts of leaving was saying goodbye to the Animation Team, who really made us feel like Prima Life was our home away from home. As a final thought, I wish to extend a very special thanks to Mr. Sevo for doing an excellent job leading the team.
Where Prima Life Can Improve
There is nothing perfect in this world and no resort is perfect either. As you'll see in my summary, and if you couldn't tell already, I had a great experience at Prima Life. Nevertheless, I'd like to provide some constructive criticism to make the experience even better for future guests.
I noticed that there is a bit of a cultural clash between Egypt and Europe / North America in terms of how we purchase goods and services. In Europe especially, consumers like to browse, perhaps ask some questions, and then make a decision. It's very off putting to be pressured into buying something as it often leads to buyer's remorse, or in extreme cases turns off the buyer to the sale completely.
In light of this explanation, I found the sales approach in Egypt to be quite different from what we are accustomed to in Europe. This holds especially true for Germans, who I noticed made up quite a large percentage of the guests at Prima Life.
The various salesman that walked around the resort were quite pushy, not easily accepting "no" for an answer and often badgering guests who made it abundantly clear that they had no interest in the service. I fully understand that this is how one gets by in Egypt. Nevertheless, I think many of the guests were ultimately annoyed by the salesmen and tried to avoid them when they could. This holds especially true for the salesmen that approached the guests as they were relaxing on their sun beds, in my opinion one of the worst times to ask somebody to buy something. The bottom line is that it is simply off putting to pressure or badger guests to make a sale, and as mentioned, often leads to the guest taking no services due to the negative experience.
My suggestion would be to set up a stand near the beach area that displays the various offers for boat rides, parasailing, photographs and any other service for the resort guests. As mentioned, Europeans prefer to see the offer, ask some questions, and then make a decision. Perhaps sales would go down, I'm not sure, but at least the guests would feel more relaxed and not have the impression that they were vacationing on a used car lot.
As a final thought, the WiFi was only available free of charge in the main lobby and not up to European standards. I viewed this as a benefit since I didn't want to easily access the Internet on my holiday, but many might not.
Newcomers to Egypt may not be aware of the poor Internet infrastructure, which can be a shock to those accustomed to much higher quality service. Even if you take a local sim card, you aren't much better off as it has the same limitations. It would be nice if Prima Life invested in better quality Internet services, even if that meant an an additional charge for guests who needed it. We rely so much on the Internet for almost everything we do nowadays that some guests would feel better knowing they could have reliable access to it in extreme cases of a family or work emergency.
Final Thoughts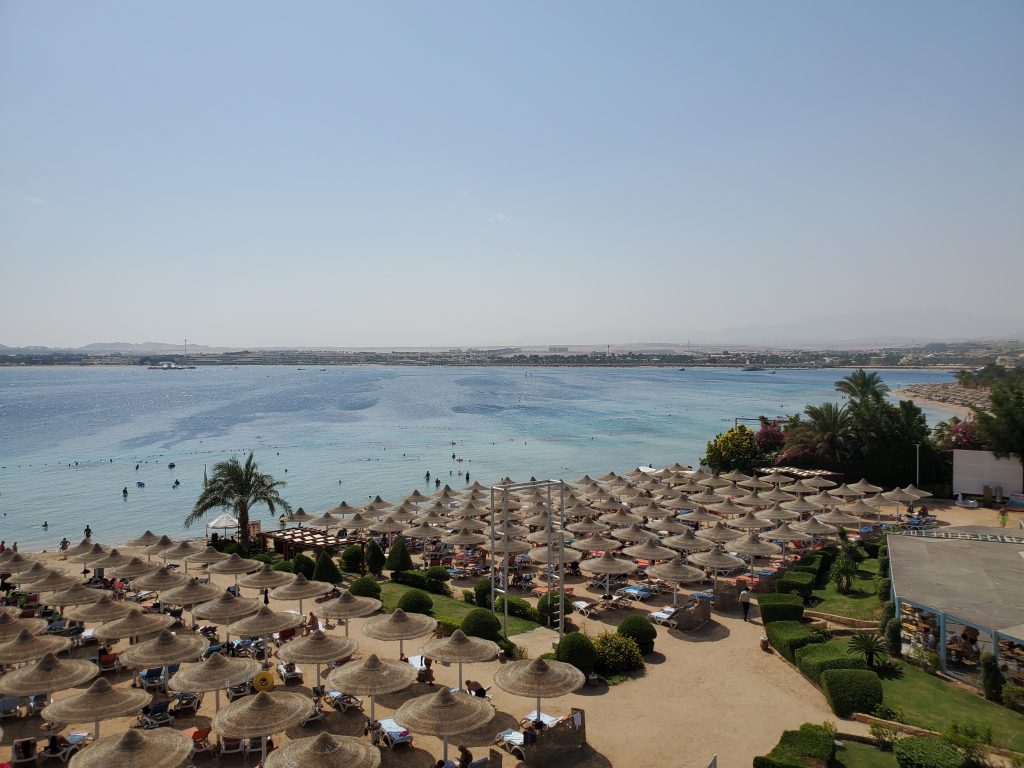 I truly enjoyed my stay at Prima Life Makadi Bay. With the exception of some very memorable family vacations, it ranks as one of the best holidays I've had in my life. Prima Life Makadi offers guests a nearly unlimited array of food, excellent accommodations, and features incredibly friendly staff, all for a very reasonable price. If this is your first visit to Hurghada Egypt, you won't go wrong with your stay at Prima Life!
Jon's Review: 4.5 out of 5 stars